Skin tightening, body contouring and aesthetic enhancement, featuring the innovative UltraSpeed model Accent Prime
Accent Prime™ is Alma Laser's most advanced workstation for skin tightening, body contouring and aesthetic enhancement. The platform combines the latest innovations in ultrasound and radio frequency (RF) technologies to deliver effective, highly customized treatments- with natural, long lasting results.Significantly reduced treatment time Combined technologies for enhanced, long lasting results Clinically proven in extensive studies Fast, easy to use, plug & play technology No disposables
UltraSpeed
Combines a new type of ultrasound technology that emits guided ultrasonic waves with an extra-large applicator plate for high speed body contouring.
UltraBody
It is a technology that uses ultrasound waves with a smaller handpiece head than UltraSpeed, suitable for treating small areas such as fat on the waist, thighs, upper arms, knees and hips. Shape and reduce the size of the circumference.
UltraFace
This applicator uses cold ultrasound (shear waves) with pressure waves aimed at deep skin layers of the face, and is highly useful in face contouring procedures.
IMPACT
It is ultrasound waves working with wind pressure. Helps to push substances/medicines Down under the skin
UniFace
a Unipolar RF hand piece designed especially for treatment of the face.
UniBody
Combines high energy UniPolar RF technology with a mechanical applicator to deliver deep thermal heating while increasing metabolism within subcutaneous tissue, improving the appearance of cellulite.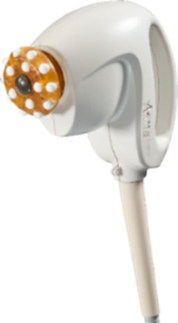 Periorbital
Unipolar RF technology is a small head that helps to increase the tightness of the eye area.
Tune Face
Vacuum-assisted fractional RF for skin tightening of the face.